Season & Year
Race Spectrum
| | |
| --- | --- |
| HUMANS | ██████████████ 28 |
| ELDRITCH | ███████████████ 30 |
| GAIYANS | █████████ 17 |
| ANTHROS | ███████ 14 |
| HYBRID | ███ 7 |
| OTHER | ████ 8 |
| TOTAL | 79 |
Adminstrators
Top posting users this month
A canopy of warm evening light formed the sky above Ilyanor that day. To see the sunset anywhere was beautiful, purples fading to oranges and eventually to the blues of the day which were soon coming to an end. But in the old town that was Ilyanor it formed just one piece of a painting that could rest in anyone's mind for eternity as if the most serene memory of their existence, it was no wonder then that almost everyone who came from there returned at some point if not repeatedly. On one street in particular however, an unoccupied walkway of pale stone that was interwoven with vibrant green vines that decorated the buildings, a stream of white smoke came down from above and landed where no one else could lay eyes on the cause of such an arrival. The smoke, still emitting a faint warm glow, began to condense and reform itself until there stood a man. Dark skinned with luscious black hair and eyes that were never free from mischief.

Two days prior a man had arrived on the island, setting his sights on Ilyanor and as of yet showing no signs of leaving. While this in itself was not banned or the first time a human had graced the old Gaiyan halls, what was unusual is how no one could exchange any information on the figure. Not where he came from, not why he was here, or how long he intended to stay. The rules of the land were simple, they could stay for as long as they posed no threat to the peace or established traditions of the town. But some were not so keen on simply waiting and hoping that this man would leave without a trace someday. So word got around, word that an important Fee within the community wanted to know his intentions, to know what he sought in their home. But to ask him would be unlikely to yield any guaranteed truth and to interrogate him was not permitted, so subtler methods would be required.

Nemarius was one of the two chosen to socially dissect their target, to gain his trust and pass on word as to the identity of their guest. In any other part of the world, the man known as Kirigan would never be trusted with a task that involved the security of such a serene home and settlement, but this place was different. As an angel, one who fought and served his people during the holy war, Ilyanor was the truest home he ever considered himself to have. The people here knew of his truth, or at least those who needed to did, and they knew he was about as trustworthy as they came if it meant for the safety of his people.

The mischievous arrival entered the open archway of a nearby building, though no markings outside told this fact he knew it was a welcoming space for citizens or visitors alike to enjoy the taste of real and gorgeous Wine that was rarely rivalled outside of Gaiyan lands. When he peaked in he rested a hand on the stone entrance, feeling the gentle hum and pulse of life that filled every inch of the town due to its ever present magic, a smile dancing across his lips as he felt happy to be home even if it were for a mission.

In the corner of the room, sat alone at a table already making his way through his second glass of wine, was the target. Middle aged he reckoned, with blonde hair that had been slicked back likely to hide how much it was thinning. Dressed in great quality even if it were not as overly ornate and shiny as some humans with money were so obsessed with. Not that the man known as Kirigan could criticise, for he wore a long jacket of deep purple, decorated in gold embroidery and rich black lining that would be fit for any ball, court or dinner. He would join him soon enough, but first he figured he should meet with the man with whom he would be working, one he thought he could see already at the bar. So he approached, giving a nod and a smirk towards any who glance his way before sitting atop a stool and gesturing for a drink of his own. "Well hello, you wouldn't happen to be the one they call Ilias would you?" He asked, with colour in his voice but a low volume.
Memento audere semper.
The voices welled within him a peculiarly lovely hum. Patrons spoke in curious tones, not at all hushed, but very much civilized in face of such an establishment. With their gentle highs and lows, their voices threatened to dim his lingering, pendulating thoughts. He had been seated for a small while – alone. For as good natured as the confines of Ilyanor could be, its people often yielded to wariness. Even as he sat idly, eyes half-lidded and somberly fixed on a glass of odd-smelling liquid before him, the people pointed their less than leisurely glances in his direction. Yet he found no fault in them. He could not. Not right now. Not even if he wanted to.
The spirit had not been the only one whose attendance had wrought the attention of those around him. No. His current raison d'etre lay with a balding fellow in the far reaches of the room whose social circumstance mimicked that of the lone, pallid figure at the bar. Earlier that day Ilias had been informed that Vyldergold was required for such things as food, drink, and travel. Thus, at his inquiry of how to acquire said currency, he was promptly dressed and rushed out the ornately drawn doors of the church which housed him and into the arms of a visiting guildmate with nothing but the words "be bold" to go by.
He had pondered what they had meant upon his earlier arrival at the bar, usual attire swapped for a white blouse neatly tucked into high waisted pants. But as the lively thrum of the bar filled the air, he soon found himself forgetting. Instead, slender fingers curved around the thin, glassy stem of the drink he had been offered not so long ago. He blinked to attention then, delicate grip tightening and shoulders haunching faintly as a low voice rung from besides him.
"Pardon…?" he'd turn to the source, only to be met with an azure gaze highlighted by the stranger's dark, angular features. It wasn't the man's magnificence which had earned him a tender smile, but the name being released from between lips.
Ilias.
Fickle how quickly a small detail could further tip his mood and he tilted his head with such amusement that the wispy strands of hair which framed his pale visage parted, revealing besides his emerald eye its crimson companion. He was still getting used to being called by name and so it came as a welcome nicety whenever he was addressed. "I believe… I'm one and the same – correct," Ilias responded tentatively, the shift in his eyes as he looked away hinting that he may have thought the fact over.
Returning to his drink, he held it much like a caveman gripped a torch. That is to say, awkwardly, unrefined, and with entirety of his gloved fist wrapped around the wineglass. He took a whiff and cringed, red fluid sloshing slightly within. "And you must be, if memory serves correctly, Nemarius?"
Despite the initial recoil at the smell, the rim of the glass still made its way to his mouth. Ilias took a small sip and then, having found nothing wrong with it, a large swig. Maybe he had drank too much and too fast, but there was a gag, a cough, and he then held the wine as far from his body as humanly possible. Whatever semblance of contentment he wore vanished in a moment's breath.
"The taste is as bizarre as its scent," he stated to no one in particular. Did others really enjoy this stuff?
"Pardon…?" Nemarius looked down at the pale figure before him with an expression of judgement though no real thoughts for it. The faintest but warmest of smiles on the man's lips as they exchanged gazes, the latest arrival however not pausing long enough to stop him from grasping the glass the server placed in front of him. He did however turn back to him before taking any of the drink, continuing his assessment of the stranger, putting his long hair and individual coloured iris's to memory. "I believe… I'm one and the same – correct," his expression was that of a confused man, Nemarius not understanding why his answer was as unusual as it was and at first wondering what had gone through the man's system prior to their meeting. But it was in his eyes he sensed some form of both honesty and sobriety, whatever disconnect was occurring between him and the honesty of communication and understanding was not the work of anything but his own mind.

He did not speak at first, the eyes of the angel still resting on the man beside him as he forced a more casual and genuine smirk as if finding his personality amusing. The way he held the glass was another indicator of something irregular, as if he were someone who knew the purpose of the glass he held but had never done so himself. Like his own hands were an alien force his body did not possess for long. At last though Nemarius turned from him and picked up his own glass, a far more natural and experienced grip with minimal use of fingers as he lifted it to his lips that were too sober for the task at hand.

"And you must be, if memory serves correctly, Nemarius?" When he heard the name it caught him off guard for a second, to enough so to break his easy drinking of the wine he missed so dearly. He remembered quickly enough that he had in fact provided his real name to the ones interested in this quest, for if he could not be himself at home where could he be? Tough same would not go for when they were speaking with the human in the corner, whoever that man was would not be found deserving of any truth from him untill further notice and assessment of his cause.

"Your memory serves you well, i trust you are aware of our mission, my most irregular friend?" He asked with a hint of both amusement and concern, questioning for the sake of the job and the sake of whatever was causing the man so much confusion and discomfort around such a simple drink. When he watched Ilias sip at the liquid he saw thought nothing more of it and took another of his own, but when he saw the large gulp of alcohol that followed he couldn't help but release a chuckle as he shook his head in mocking judgement. "The bizarre is subjective, as is enjoyment. You study your wine like it is sorcery of it's own…"

Nemarius's voice trailed off as he wondered for a moment who or what he had been paired up with. Serpentine eyes of two shades, features that could be admired and mistaken for any gender, hair silky green but naturally so, no scars from what he could so but despite his flawless skin it was clear he was no young man. At first he had assumed an elf and while that was still possible he thought maybe someone far older, but would someone so old have so little experience in life? Whatever observations would come from this day he felt like only half would be of the target he was paid to study. "For the sake of the one we are here for, i would prefer to be called Kirigan in his presence deer Ilias. And i hope you will not be offended, if the way i speak to you now is not how i speak or act once we approach. I find i am much better at finding someone's true motive when being less than true to myself, especially with humans."
Memento audere semper.
There had been a sidelong glance in the new arrival's direction, eyes lingering on the raven-haired man but soon lowering towards his hands. For the way Nemarius held the wineglass seemed attractive to the eye, the spirit soon mimicked him until his hand rested in much the same way as his companion. Ilias offered a slight nod when questioned as to the task at hand. However, the earlier look the man had offered hadn't been lost on the still simple-minded spirit and much less so had the mocking chuckle moments later. Judgement was something Ilias had become somewhat accustomed to in those little moments spent outside the church. Regardless, he found the expressions that came with it rather unpleasant.
He continued taking tentative sips, driven by how easily the other man downed the liquid as he side-eyed him. He could learn, he thought; he could learn to enjoy it as those around him did. Yet by the furrowing of his jade-colored brow, it seemed he'd still have a hard time of it. Subjectivity was something the Gaiyan had not been afforded in the entirety of his existence and so he possessed little of it. Maybe he would enjoy the flavor in due time. So, for now, he would continue to chip away at whatever small amount was left. He only needed to try harder, right?
There was a small moment of consideration, a lull, after being informed of how Nemarius would prefer being addressed by something other than his name. The request had struck a curious note.
"Are you true to yourself now?"
The question had very much been pointed. If not, a little naïve. Ilias had no reason to believe the stranger would lie to him so soon after meeting, but in the offset of the odd willingness to go by a different alias made him believe that this person was not who he said he was and his real name was in reality a guise for yet another alias. His brows furrowed deeper, the glass which he had kept near to his lips tipping unconsciously in presence of his thoughts. He'd down a large portion once more.
"Your approach eludes me, Nem– err, Kirigan," he continued in earnest, clearing his throat beforehand due to the wine further souring his throat. "But let it be as you wish. I have no will in finding offense within someone I know nothing about, much less if it is truly necessity what compels you to behave in such peculiar a manner." the curious spirit would look over his own shoulder then, vision grazing the duo's assigned target in a manner that was less than inconspicuous and making it entirely apparent that he was gawking a little too intently. "Although, he does seem harmless enough."
Nemarius's apprehension had not gone over the green-haired man's head, however, even if his earlier question had been rather strange.
Especially humans.
He supposed they posed a threat to the man who looked quite human himself.


---
---
"Yes he does, doesn't he." Nemarius answered in agreement, both men looking over at the target though he hardly seemed to have noticed yet. He was much too occupied cheerily drinking another glass while waving at a couple of far at a nearby table, placing his hand against the nearby wall seemingly in wonder at every little detail of his surroundings. "I swear, how those people now populate over half the continent still amazes me. You'd think they still found magic a curiosity." As he shook his head gently but with gentle eyes that expressed not anger or judgement at the man but a genuine amazement at humanity.
It was only then that he remembered and processed the question that had been asked by the man beside him, as to whether he was being true to himself now. It was a fair question and one he wished he had a clear and obvious answer to, but he answered as honestly as he could think. "As true as anyone would be to a stranger who holds a glass as if his hands aren't his own." He gave playful smirk out of the corner off is eye though continued before his comment sounded like a slight against him. "No offence, but my attitude is real even if my words reveal little. Who knows, maybe you will know all about me by today's end…" Wit that said he slid himself off the stool and ushered the bartender to grab a fresh pitcher of Wine. "I am going to greet out visitor and make myself known as a friendly face who is curious to see someone else so new, join us when you are ready though if he asks please insist that we exchanged pleasantries at the bar and nothing more. It would be terribly awkward if i said i was here alone and he caught on that we had joint reasons for being with him."
Leaving that as his final word he picked up the pitcher from the counter and approached their target. When he was a metre or so out the middle aged human saw the approaching man and raised a glass in salute, a gesture which the angel returned. He took a suit opposite him and slid the pitcher into the middle, leaning himself back slightly and crossing one leg over his knee to offer a platform for his elbows to rest away from the table. "Well hello there friend, i trust you do not mind my invasion of company, after all i could do with some of my own."
Wiping his mouth dry and shaking his head to an almost exaggerated degree the human gave an answer that from the look in his eyes, was pure honesty in every aspect of it's delivery, "Oh no no not at all sir, it would be my honour. After all, there are not many of us here it seems, i dare not turn away a relatable companion."
With a wide grin that only the most insightful could see as a fake, the dark skinned man bowed his head and opened his arms with a slight flair. "As wise as you are generous it seems, i would be a fool to turn down first meetings with one of the few kinsmen available to me." Leaning forward towards the table he outstretched his hand, using the other to brush a couple strands of hair that had fallen in front of his eye. "Kirigan, Kirigan Redfoot. The pleasure of your company and this mutual adventure is all mine." He picked up the pitcher and topped up the glass in front of the true human before filling up his own, placing it back in the centre before picking up his glass and giving it a swirl as if to admire the colour though his eyes only left the man for a moment. "I probably should have asked how much for the wine, it's been a long time since i've drunk in a Gaiyan settlement and who knows how it will effect my Vyldergold." he joked, sharing a chuckle as they both began to drink.
---
Memento audere semper.
"Okay," he did not comment further at the request, relegating to simply observing as his charming companion approached their mark. Nemarius approached with such ease, like he had done this sort of thing dozens upon dozens of times. Ilias turned away.
Though his somber expression had returned just moments before, there had been a small bout of self-consciousness at Nemarius's comments, nothing that would really cause him any offense. Yet he still found himself a little more than confused by the ravenette's heed. By word alone the man made his apprehension clear, but his expression carried no ill will. What
was
him and what
wasn't
seemed a tad muddled at the moment. And it had been the smirk and inviting remark which further piqued the perplexed creature's curiosity.
He wanted to know more.
The smallest of unintentional bait had been laid, and it had only taken a few minutes before he'd stood and swiveled on his heel in a flourish. The few ogling patrons still finding interest under the new development as their stares shifted between the spirit, the balding man, and the new arrival. Ilias would pay them no mind, instead positioning himself between the two at the table. He would offer a gentle curtsey, free hand placed upon his heart. "My apologies," he'd start, then straightened. "I do hope I'm not interrupting. But I am unable to keep away from your current drinking companion. For he only spoke few words and I found myself swiftly enticed." After a pause, he gestured towards a seat, "May I…?"
The human had gone silent. Not at the approach, but at taking notice of the singular, sharp pupil etched into the green of the spirit's eye. He blinked, "…Oh! Please, make yourself comfortable. If you wish I may leave the two of you–"
"No need," somber eyes nearly perked up in alarm. They couldn't allow the man to leave to soon! "I much prefer the company of others despite my endeavors. Good company and good discourse make for a life of prosperity or so I've read," there was a singular, feather-light chuckle as Ilias pulled up the chair and sat, placing the nearly empty glass on the table in one swift movement. An inevitable mantle of silence descended upon them. He wondered if he said something wrong, and an admittance peeked its way through the quiet second later, "…I would marvel to make yet another fascinating acquaintance." The tone had been soft, barely louder than a whisper but enough to reach its intended target.
More silence ensued as the human looked to and fro his newly acquired company. An air of pensive amusement radiated off the man as his gaze darted from one corner of the table to the other.  It wasn't until a hardy laugh escaped the balding one that Ilias, who had then leaned over to take hold of the pitcher, froze.
"Fascinating acquaintances, indeed!" there was the offering of a hand and a polite smile, "Marion Magimel."
In turn, no such thing was offered back. "Ilias," and the blonde would slowly retract his offer.
"Is that's all?" Marion asked.
"Belvedere Remus."
The response had been delivered dry, but Marion remained delighted despite the awkward exchange. And he would look to Nemarius with playful intention. "It seems to me you have fished yourself an unusual catch. How exciting," he mused happily before downing his wine. The man was very much under the wrong impression much to Ilias's obliviousness, who said nothing as he refilled his glass.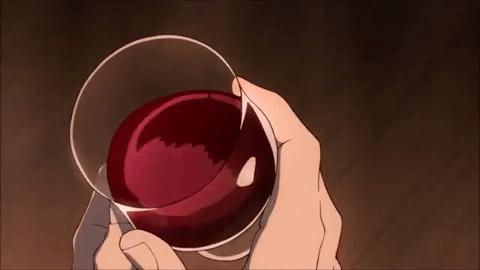 ---
---
Nemarius bowed his head and gestured to the spare seat as his accomplice joined the pair, the odd man's polite manners being likely a good opening to at least delay some suspicion about their dual company. As for his compliments toward's Nemarius's company he was curious as to what way it was intended but given the demeanour of the newest arrival he did not think to dwell on subtleties that are likely far from intended. Instead he wore a smug look as his reaction, as if swelling with pride that his company was so quickly finding appreciation amongst locals.
He waited before giving any verbal reactions however, instead letting the other two exchange their pleasantries and introductions, observing them bot has he did and enjoying the beautiful depth of the wine on offer. Marion Magical was the man's name apparently, potentially a false alias though he had no information to judge on such a risk just yet, merely a possibility. He also thought it polite and appropriate to put the full name of his peculiar comrade to memory, however long they worked together was yet to be seen but he figured it could not harm him to remember it at least for the night.
Nemarius nodded his head at an angle, agreeing with the human's statement but with an expression that hinted at his own confusion and humour at the fact. "And they say the Gaiyans are unknowable, I don't know if i should be concerned or flattered." He said with a smirk, a quiet laugh under his breath which the blonde man shared in. Both lifting their glasses and blinking them together as if in celebration at their ability to bond over the nature of older races. "I jest of course, to be so enticing is always a compliment, i hope i can merely keep you both enticed long enough to pay for the remainder of my rounds. for the night."
The tipsy giggle of laughter that left the man's lips as he scrunched his eyes and flapped his hand in amusement was amusing in itself though also a good sign. Whoever he was he would likely spill sooner or later his intention, for now though flattery and humour seemed to be the way forward. A point to which Nemarius flashed a glance at Ilias, wondering how much of either he could accomplish though understanding it was not everyone's specialty. "Well well well, Mr Remus and Mr Magimel. May we drink to our company, our pleasure and the beauty of this island. Should it's wine flow for evermore."
The toast was picked up by the human, a gesture he continued by saying. "And may the love and joy of such a haven bring forth more companions and more wine for the rest of the world and the rest of our days." An interesting addition though a merry one and one seemingly without nefarious or suspicious undertones. So with a look of approval in his eyes and a slightly wider and even more genuine grin he began to drink from his glass until it was drained to the last drop.
---
---

Perhaps concerned was the correct way to feel about the situation as Ilias was witless and ignorant to most things within the constructs of social interaction. Really, he was at a loss and unsure how to proceed. Both men were seemingly good natured it seems to him, clinking their glasses and smiling amicably. Even from the beginning he found no real reason to doubt this Marion Magimel, yet the quest at hand and his partner for the night implied differently. Truly unknowable, Ilias supposes, just as everything else.

Wait, did Nemarius just say... pay for his drinks?

The glance flashed in his direction didn't go unnoticed, if only because he returned it with a faint look of uncertainty and an incredibly abrupt headshake as though saying— no, he couldn't. Whatever meaning lay behind Nemarius's stare in those moments might as well have slingshot itself from his blue eyes and missed the mark completely. There was a small currency issue that should've been addressed sooner, but the situation didn't allow the chance and Ilias's rather skittish focus quickly dragged along with their toast.

"May it be so," he spoke quietly into his glass after the blonde's addition, took yet another absentminded drink and set the glass down carefully before tapping his finger against the table's lacquered surface. "Hmm..." Uncertainty turned to thought.

Normally his first impulse would've been to be straightforward, knowing no better than to seek and satiate his own needs: want, have, enjoy. How curious it was to feel a contradiction, he mused; to not be direct when that was all he knew. Was it normal for mortals to contradict themselves so? Or better said: conceal? While he struggles with the notion, he hopes for the sake of  this quest that he could continue to do well enough and found footing in a slightly different approach than simply asking 'why are you here?'

"Speaking of such a haven," he begins nary a second later, attention flicking to one and then to the night's quarry. "Mister Magimel, is there anything in particular you've come to enjoy of Ilyanor? I've, well, only lived here for... how many nights now? Twelve? Fourteen? A whole moon?" Ilias narrows his eyes in contemplation, studying the air momentarily. Days. Days. Days. They had names now, didn't they? Calendars were still lost on him.

"Regardless," he addresses the human with softer eyes and an unassuming smile. "I would like your opinion."

"Oh? Let's see..." Marion remained lighthearted, or so it seems to him, holding Ilias's smile with what he perceives to be a kind one despite the ruminations. The human tapped his chin, his pudgy mien turning towards the entrance as though doing so would bring an image to mind. "A difficult decision, really. There are so many wonderous sights that choosing only one would fail to bring the island justice. Mayhaps—although I have yet to enter—the Olde Library?"



Total Word Count (Personal): 2162
Novice Quest: 500/500 words
Novice Quest: 500/500 words
Apprentice Quest: 1000/1000 words
Remaining Word Count (Personal): 162
Similar topics
---
Permissions in this forum:
You
cannot
reply to topics in this forum